RATCHET LEVER HOIST Model: LV Capacity500 - 6000 kg


The LV model hand lever hoist results from the application of high technology with emphasis on overall performance required in a quality chain hoist.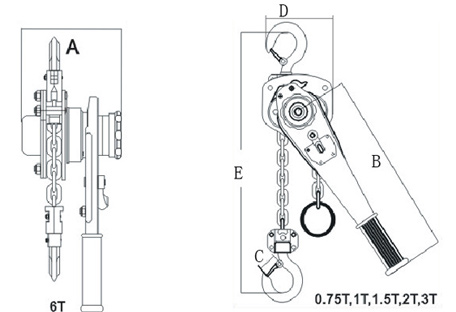 Features
• Lighter weight, higher efficiency and more compact size, these hoists are valuable in lifting
application
• The enclosed robust stamped steel housing protects all internal components even in the
toughest conditions.
• Chain guide and gearbox are almost totally enclosed. Even under the toughest conditions
the internal gearbox remains protected.
• The hardened load sheave with four precision machined pockets ensures accurate movement
of the load chain.
• Drop forged load and suspension hooks that yield under overload instead of breaking, are
made of high tensile steel.
• The hooks are fitted with robust safety latches and rotate 360°
Technical Parameters
Item Code

Capacity
(kg)

Model

No.
of chain

Test Load
(Ton)

Chain size
(mm)

Pull on hand chain at WLL N

Net weight at standard 3m lif t(kg)

205050

500

LV050

1

750.00

5×15

108

6.1

205075

750

LV075

1

1125.00

6.3×19

147

6.9

205100

1000

LV100

1

1500.00

6.3×19

196

7

205150

1500

LV150

1

2250.00

7.1×21

176

9.6

205200

2000

LV200

1

3000.00

8×24

235

10.1

205300

3000

LV300

1

4500.00

9×27

372

15.9

205600

6000

LV600

2

9000.00

9×27

382

25.7
Size Specification (mm)
| | | | | | | |
| --- | --- | --- | --- | --- | --- | --- |
| Item Code | Model | Hmin | A | B | C | D |
| 205050 | LV050 | 295 | 148 | 256 | 45 | 128 |
| 205075 | LV075 | 295 | 148 | 256 | 45 | 128 |
| 205100 | LV100 | 310 | 152 | 256 | 48 | 128 |
| 205150 | LV150 | 335 | 161 | 368 | 52 | 148 |
| 205200 | LV200 | 350 | 168 | 368 | 60 | 148 |
| 205300 | LV300 | 405 | 191 | 368 | 66 | 180 |
| 205600 | LV600 | 550 | 191 | 368 | 80 | 180 |