RATCHET LEVER HOIST Model: LM Capacity: 250 - 500 kg


This hoist is the smallest, lightest for professional applications.
The extreme low tare weight and the very compact design make the hoist easy to use even in confined working conditions.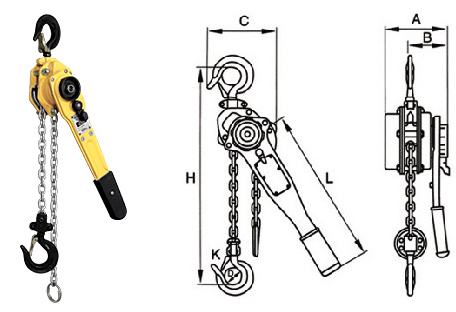 Features
• The drop forged suspension and load hooks, that yield under overload instead of breaking,
are made from non-aging, high tensile alloy steel.
• The hooks are fitted with robust safety latches and are free to rotate 360°.
• The short and ergonomic hand lever makes the hoist easy to operate.
• The enclosed design protects the internal parts from contamination.
• All parts of the disc type load brake are manufactured from high quality materials and are corrosion
Technical Parameters
| | | | | | | |
| --- | --- | --- | --- | --- | --- | --- |
| Item Code | Capacity(kg) | Model | No. of chain | Chain size(mm) | Pull on handchain at WLLN | Net weight atstandard 3mlift(kg) |
| 207003 | 250 | LM003 | 1 | 4 | 250 | 1.8 |
| 207005 | 500 | LM005 | 1 | 5 | 340 | 4 |
Size Specification (mm)
| | | | | | | | | |
| --- | --- | --- | --- | --- | --- | --- | --- | --- |
| Item Code | Model | H min | A | B | C | D | L | K |
| 207003 | LM003 | 230 | 92 | 72 | 85 | 30 | 160 | 25 |
| 207005 | LM005 | 260 | 105 | 78 | 80 | 35 | 300 | 25 |